Clinique gave me quite a generous amount of samples and I really like how interactive their site is =D. Few months ago, I dropped by their counter to redeem my 2 piece gift ended up got 5 pieces~ =D I got the 3-step skincare and foundation + pressed powder that suited my skin tone.
It wasn't my plan to try their makeup since their 3-step skincare regime made my skin itch and the redness on my nose and forehead got worse. With all my interviews and work last week, I had to wear makeup almost everyday. I already wore my Naturactor foundation during my interviews which was my only foundation >< and a little too thick for daily use so I tried Clinique's foundation for the 3 days I worked as a flyer girl.
Makeup A to Z for this neko~
A thin layer of moisturizer. For me, I use Garnier's Aqua Defense Moisturizer.
Next comes my trusty Dr Feelgood from Benefit to help maintain a matte face. Applied extra on my nose area to last for the whole day.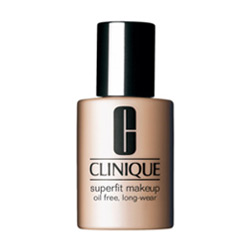 Now comes the foundation. The SA gave me the Superfit foundation for oily skin =D
Touch up with Clinique's Stay-Matte Sheer Pressed powder.
So far the combo works really well for me, I only touch up twice during the 9 hours of work =D. Will invest in the powder when I have money, the foundation is very light and barely any coverage though so I'm still leaning onto Bobbi Brown's XD